The Apple Volume Purchasing Program is an initiative taken up by Apple, to help iOS app developers to build apps for enterprises. It allows volume licensing, which essentially means that you are given the rights to distribute your app freely to your end users, instead of having to make each of  them download your app.
When used with iPhone apps development, it facilitates an easy mechanism to buy, sell and distribute apps and books, making it extremely important to businesses and educational institutions.This finds a very important niche in the business place, considering the increased usage of technology and iPhone apps development in enterprise management. Suppose, you own an enterprise and you want all your employees to use an app for one particular part of your businesses, if you were to individually download apps, the cost will be significantly higher and management of the apps will be difficult too.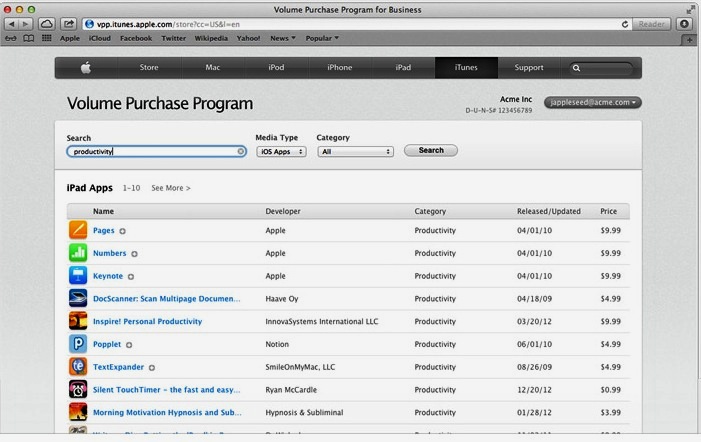 With the Volume Purchasing Program, you can now distribute the app freely among your employees. Moreover, the iOS app developer retains control over the app the employees use. If an employee was to leave your company, you can simple reassign the app to a different user. Most importantly, through VPP custom B2B apps can be developed to suit a particular enterprises' every need. I will discuss about B2B apps, their use and importance in my next blog.Another important use of VPP is in education. Technology has creaped in to our education system too, and there are number of educational apps built on iPhone app development which greatly help students. These again, need to be bought in bulk if they are to be distributed by educational institutions. Be it a e-book or an app, through VPP the schoolor college can distribute its copies. Schools receive a 50% discount if they buy these apps in bulk. For this however, the school first needs authorization from Apple and each of the students must have their own unique Apple ID which is to be used exclusively for the VPP.
The introduction of the Volume Purchasing Program, ensures that iPhone apps development remains relevant to businesses and enterprises and education as well. As an iOS app developer, development of enterprise and B2B apps has become easier, and as the owner of an enterprise,  it is now easier to embrace technology into your practices. The VPP seems to have made everyone happy.