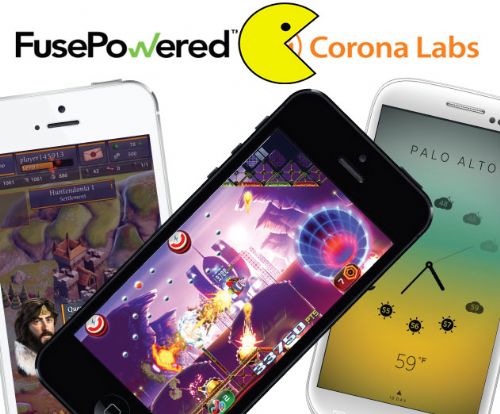 The Corona Software Development Kit is a popular tool for game developers across platforms. It is also widely used for developing cross platform applications which run on iOS, Windows and Android. Many games built using Corona have snuck  their way to the top of the iOS and Android App Stores. The Corona SDK offers portability, quick development cycle and everything else you would expect from a standard Cross platform app development tool. While it is not of great help on the GUI and Interface aspect, it is quite a solid development tool.
Fuse Powered helps application developers bring in money with their products AdRally and FuseBoxX. FuseBoxX provides a single SDK for every stage of the development life cycle. Analytics, testing, audience segmentation, notifications, they have it all. With the coming together of these two powerhouses, their reach and user base is all set to increase exponentially.
Their coming together means they will have over 200 million monthly active users. Their combined platform will be supporting over 10,000 game and app developers worldwide. This union is great new for app developers because they now get to develop and monetize their app using a single tool.
Cross platform app development is a trend that has rapidly caught on. The tools available in the market are so sophisticated that they can be used to build games quite well. They can be used for the entire development cycle and now for monetization as well. It really is time to build your own enterprise app. Get in touch with the best cross platform app developers in the business today and build your dream app.