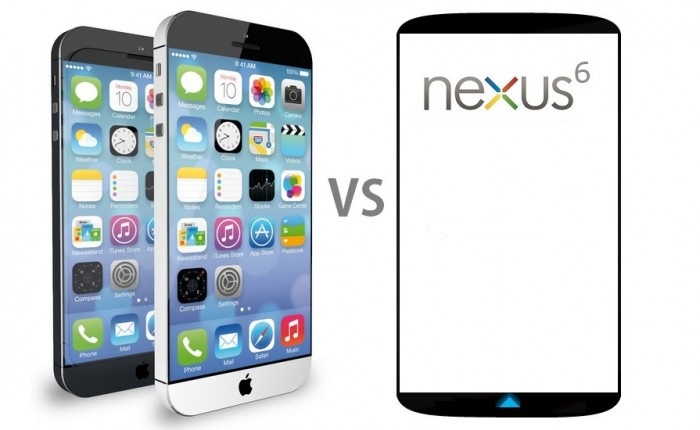 In today's smart phone world there has been huge competition between iOS and Android from the time they evolved and it has been a healthy competition tying to better software's. And better software's lead to better hardware's, every year there are 1000's of phones that are released in the market and there has been a huge comparison between them as to which one is the best. Last year we had some amazing phones that were released. The best of iOS was the Apple iPhone 5S and the best of Android was the Google Nexus 5.
Every year there has been major release by both Google and Apple, there has been some great expectations for the year 2014 as to what to expect from Apple Inc and Google, especially with regards to the device that they will be releasing this year, there has been a rumor that Apple is releasing the iPhone 6 and Google is releasing the Nexus 6, so let's take a look at some of the features that they are going to provide
Apple iPhone 6: There has been a lot of talk about the apple phone size, the phones have been of the same size 4.5" compared to Android it's a lot smaller and most of the devices sold last year have been around 5+" and just like anybody else Apple will be aware of this. What new can we expect from Apple this year?
We may get 2 devices just like 2013, 6C and 6S. With all the talks around most of the Apple users prefer the smaller size phones maybe we can get two devices with different sizes, there has been a lot of talk that the 6C may be around 4.7" slightly bigger than the 5S and the 6S may be bigger, we can look out for something around say 5.5" it will be a definite competitor for the big phones in the market at the moment, just because the phone is big we can't expect something a new iPhone with the same thickness, we may be looking at something as slim as the video pod with the advancement in the LED technology this is a lot possible.
What more will Apple provide apart from phone size? As all of us know Apple is all about surprises and speed, so here is something in addition to the size of the phone recent reports have suggested that Apple may switch over from damage resistant and durable Corning Gorilla Glass to sapphire crystal displays for its iPhones, currently Apple uses Sapphire for its camera and in the iPhone 5S, it did use it for the finger print scanner, we can expect them to use it for the full display from iPhone 6 onwards and few talks on the camera that Apple will still use the 8-megapixel as in the 5 series, but there might be some improvements, I'm expecting both the 6C and the 6S to have a finger print scanner, as it was a huge success, the new adoption from Android this time looks to be the NFC (Near field communication) Apple may be late here but they can still surprise their users.
Last but not the least iOS 8, something the world is looking forward to, every year Apple comes up with some amazing features in its OS, we can expect something big from Apple this year again, but one thing for sure Apple will look forward towards linking the device and the Mac's, there will be better sharing options between the devices and PC. There is another rumor that when the phone is synced with the Mac we can attend and make calls and also send texts from the Mac.
Nexus6: The word Nexus means 'a connection or series of connections linking two or more things', and that explains the phone Google Nexus.
Just like the iPhones, the Google nexus series are becoming very popular all over the globe and people are waiting eagerly for the new release and the updates they can get from Google. With the latest Android 4.4.3 being released, there has been a lot of curiosity among the Android users as to when they will receive the updates, as the updates have been first introduced to the Google smart phone users all eyes are on Google smart phones now as everyone wants the update 1st hand and with Nexus 5 being a great success there has been a lot of expectations and rumors on the Nexus 6, so let's take a looks at some of the updates that we can expect from Google Nexus
So it looks like we are going to have the upcoming Google Nexus in collaboration with LG, and this might be even the Google's last phone with the brand as it may look for much more traditional phone maker, with that in mind it may look at 'Motorola' the countries, oldest and best manufacturer. Getting back to LG, since it may be the last phone with the manufacturer LG will try to give the best as they will not want to lose Google, we may be looking at a phone that looks something like the LG G Flex. Just like Apple, Google does not give much consideration to the looks but they give more importance to the features and device specifications like speed, support etc. So what we can expect from Google this time around?
Octacore processor: With a lot of device being released in the market with high-end processors Google will like to have a tough competition with its competitors, we can actually expect the Google Nexus 6 to be really really fast and very efficient. To make it clear it will be the best smart-phone experience!
4GB/6GB RAM: The demand for devices to have better memory capacities in the market today is increasing rapidly and for the people who love to do everything rite from gaming, watching videos and app savvy's having more than 3GB RAM is pretty common in today's world. So Nexus has a huge task ahead, with the belief in Google I'm sure they will achieve and give the best for its users, the current Nexus has a space limit of 16GB and 32GB, we can expect something like 32GB, 64GB and 168GB.
5" screen or bigger screen: There has never been a complaint from Nexus users regards to the size of the phone, personally I feel a 5" screen is great, as if it goes bigger it will be like you have to carry your tab around. But with this being said the people who love clarity in the pictures will be expecting something bigger from Nexus, I would suggest a better display with better pixels and clarity.
Finger print sensors: With the dawn of the iPhone 5S a lot of people want to have more security for their phones and the best security is your finger print, we can expect this from Google in its next release but you never know what they have in mind with regards to this feature in particular.
Metallic hardware: Google looks pretty outdated here, now days everyone is looking for metallic experience with their phones and again Google is said to produce light weight phones, so they may look out for a metal that will replace its plastic experience with the same weight.
8MP – 20MP camera: The only complaint that Nexus keeps receiving is its camera, with most of the devices coming up with a camera range between 8 to 20 MP, Google will be looking at something similar, as it will want to stay in the competition.
Android lollipop OS: Android is one of Google prices position, and they deliver only the best when it comes to Android and for every Android release there is a huge expectations, just like the previous Android versions the next one may be lollipop, trust me it is already caring a huge burden of expectations, as the kitkat was a huge success and Google will be looking forward to expecting something similar from the next Android OS and will try to avoid the bugs they received from the previous OS.
With all things said, the best part Apple and Google is the surprise they bring for their customers, so lets wait and watch as to what they have in store for us