I'm not sure as to how you feel about Apple's personal Voice Assistant: SIRI, whether you like it or not Apple's SIRI has really made a massive impact on most of the Mobile OS's across the globe. Finally Microsoft is now prepared to roll out its latest updated OS – Windows Phone 8.1. The Windows Mobile 8.1 has couple of major updates, one of them being the Personal Voice Assistant "CORTNA" and the other would be the notification center (perhaps Android has inspired Microsoft here).
With the announcement of Microsoft's voice assistant, we have 3 Personal assistants i.e. Apple's SIRI, GOOGLE NOW and CORTANA. Just like GOOGLE NOW, CORTANA has the ability to read location and data context from the phone. It can automatically remind its user on an approaching meeting as per the schedule entered.  The Windows Mobile 8.1 also has made other changes which include separate volume controls, VPN support and it also separate apps for Xbox Music and Xbox Video. Along with this Windows Mobile 8.1 also allows social apps such as Facebook and Twitter to extend the People Hub.
Nokia is currently preparing 2 handsets for the updated OS. There is one particular device  codenamed as 'Goldfinger', which includes '3D Touch' system. The Windows Mobile 8.1 will be able to detect off-the-glass interactions along with this Nokia has also made the second handset and it's codenamed  as 'Moneypenny'. These will be the first 2 phones that will take advantage of the new on-screen Windows Mobile 8.1.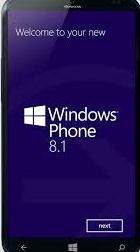 Many of you may feel that there are not many app's for Windows phone, well that may not be the case in the future. There are already more than 20,000+ app's available in the store, and if you are considering in building an app now is the best time I would say, the best app's now will be Hybrid app's with works pretty much on all platforms like Android, iOS (iPhone, iPad, iPod etc). Since I'm talking about Hybrid app's these are build on frame works such as Phone Gap, Titanium etc..
I was going through Phone Gap, and I came across the context 'Drupal Gap'. DrupalGap is actually an open source software project which is designed to bridge the gap between the mobile applications and Drupal websites. DrupalGap builds upon Drupal, PhoneGap, and jQueryMobile. DrupalGap is the Module that connects the mobile applications and Drupal websites, with these developers will be able create custom multi-platform mobile applications that communicates with their Drupal websites, the DrupalGap Mobile App's can installable on Android, iOS and Microsoft mobile devices. Once installed, the DrupalGap Mobile App can interface with a DrupalGap enabled Drupal site.