Google's Nexus 5, this is the latest and the best by Google till date, given below are the few advantages and disadvantages, these are my personal feedback:
Three reasons to prefer Google Nexus 5: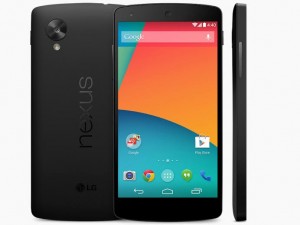 Nexus 5 was released at good price with good technical specifications (full HD display, Snapdragon 800 Quad core processor from Qualcomm and 2GB RAM), the Nexus 5 adds more value for money when compared to other Android phones available in the market.
Powerful Hardware: Nexus 5 is equipped with great hardware, which is not available in other Androids. It has a 4.95 inch full HD display with impressive 445 ppi pixel density, powered with Qualcomm Snapdragon 800 at 2.3 GHZ along with 2GB RAM. The Nexus 5 can handle all Android apps.
Automatic Android updates: This may not be a great feature for everyone, but it is important for some. Nexus range automatically downloads and updates the Android system on top priority. Hence, you can always have the latest software for your Nexus as soon as Google announces the updates for the respective hardware.
Three reasons why you not choose Google Nexus 5:
Battery: It is obvious that with great power it consumes more battery life. Nexus 5's battery life fails when compared with Lenovo P780 and LG G2. Nexus 5 requires more battery power to play around with social networks apps and mails on 3G, as it struggles to pass 10hours of battery power.
Multimedia: Nexus 5's audio quality is not that impressive when compared to Lumia 920, which costs the same. The camera quality may also need a little bit of tweaking with its big and colorful display. Let us hope Google works on these areas.
Design: It gracefully fits your hand when compared to Nexus 4's glass-plated design. It looks great if looks are not a great matter for you, well you can just skip this part.
All the Android lovers will love it, because it's awesome for apps and looks great, but if you are looking for battery life and camera as the main factor, Nexus 5 is not a wise choice.