Of late most marketing and advertising takes place inside the confines of the application itself. In app messaging and push notifications are popular marketing techniques used to engage the application users. In this column we will compare these two methods and explore which avenue would better suit your model of app development.
Push Notifications
Push notifications are generally used to get users who have installed an app active on it. It basically covers all communication done outside the app. The users who opt for this service generally comprise the most frequent, hence most important demographic of your users. Perfecting push notifications requires having good  timing, content and frequency of notifications. You generally won't be able to customize push messages that much. Ensure your  notifications are diverse and useful. Many apps use it to tell users about sales, updates and offers relevant to the application. Like every other marketing idea, for successfully implementing push notifications you need to collect data about about your users. What kind of messages yield results, how many people bought your product and visited you app after viewing the notifications and so on. Use this to better your strategy and send more effective notifications to your users.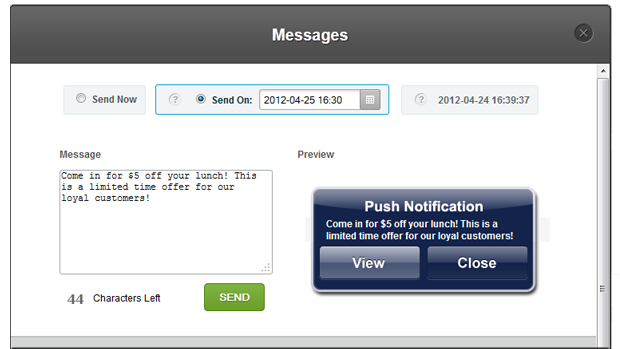 In-app Messaging
In app messaging or native app content refers to communication that occurs when the user is active on the application. Unlike Push Notification, this finds a deeper connection with analytics and should be completely modeled on what part of the application the user is using. In app messaging should not feel like a marketing gimmick. It should feel like a personalised conversation providing users different privileges and offers depending on what part of your application your user visits the most. These are a little more complicated to get right, as you have a lot more freedom to customize the experience. Integrate it well with your application to see a well needed boost in user experience.
Their Marriage
While in app messaging and push notifications do work well independently, it is their marriage that provides the perfect marketing strategy for you. Make them two aspects of your application that work together to provide a unified and superior user experience. You can use push notifications to bring users into your application, in app messaging can be used to streamline and guide them in the app.