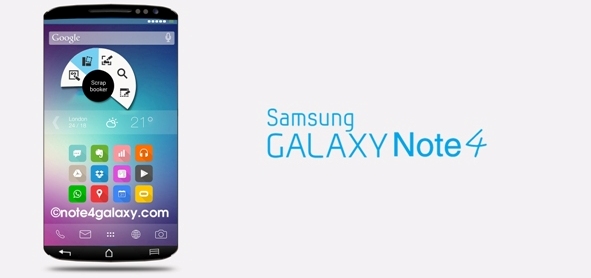 Rumors are abuzz about the new Galaxy Note 4. A sequel to the Note 3, one of the best-selling phones of last year, the Note series promises to get bigger ( thankfully, not literally) and better.  Samsung, the most popular smartphone brand in the market, was quite daring with Note 3. This phone for the very first time introduced the concept of a 'phablet', a phone so large it morphs into a tablet. With Apple supposedly taking the cue and producing their own phablet, it will be interesting to see how the Note series will re-invent itself with the Galaxy Note 4. Here are some things we expect from the phone which is slated to release in the first week of September.
Display
The basic design and layout will not be expected to change. The display will probably follow the Galaxy S5 and come with a quad-HD AMOLED display which would look great on the large screen. The screen size looks like it is going to remain the same 5.7 inches.
Camera
There are conflicting theories on this one. Some analysts are expecting a 16 Megapixel camera, similar to the one we saw on the Galaxy S5. Others are actually expecting a downgrade in pixel to 13, compensated with an increase in lens quality. This is a welcome change because after all, Megapixels are not the only requirement for a good camera. We are also expecting features like dual LED flash and optical image stabilization.
Operating System
While we would all love to see Android L make its grand appearance into the market with the Galaxy Note 4, the phone will probably run on Android KitKat 4.4. But the good news is the OS will see higher integration with TouchWiz giving you a superior user experience.
The Note 3 challenged Android application developers with its unique features like it's large screen size and it's extensive usability with pens. The Note 4 will be no different. It will continue to be an important device for enterprise and business applications, making it all the more important for app developers.
Samsung is looking to make up for the dismal performance of the Samsung Galaxy S5 in the market with the Note 5. But only time will tell whether this phone will help them regain their footing in the industry.