As you know iOS is one of the most user friendly operating system in the mobile town and Apple has taken alot of care not to alter the user interface, along with this Apple has managed to introduce some really cool new features, on a personal note I love these features:
Airdrop: Airdrop is a file sharing feature. It is an ad-hoc service in Apple's OS X and iOS operating systems that was launched on MAC OS X Lion and iOS 7. Airdrop allows you to share files with other supported MAC computers and iOS mobile devices without having to connect to a  mass storage devices. OSX and iOS use different protocols. Airdrop in OS X works through Wi-Fi and iOS functions run using both Wi-Fi and Bluetooth.
Camera: Burst mode shooting is available with just one click; from the camera mode hold the volume – up button and it lets you take multiple photos.
Multi-tasking:  You can quit multiple Apps running in the background by just double tapping the Home button and flicking the app upwards.
Notifications: You can check new notifications by swiping down to open the required app and swipe up to close or hide it.
New balancing act:  iOS 7 is  bad news for innovative App developers who made Flashlight Apps and Spirit Level Apps. As it has added a  the Control center that displays the flashlight with a tap and also shows a compass that provides the same functionality as spirit level apps. When you launch the app familiar dots appear at the bottom of the screen, which indicates a second screen. You can swipe it to see all the listed things.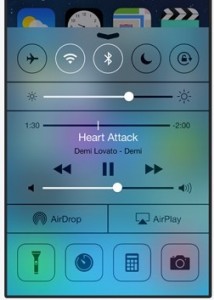 Block contacts / phone calls:You can block phone calls, FaceTime and messages by adding the desired number to your contacts. Scroll down to the bottom of the screen and tap block this caller to refuse incoming calls, messages and FaceTime.
View time stamps in messages: You can view time stamps by swiping to left in messages.
Swiping app backwards: You can save time when you have finished working with one app, then just swipe backward to return to the previous page. But if you're on the first screen of the app nothing will happen.
Location services: iOS 7 keeps a track on where you go and personalizes features such as the Notification Center, to help improve the accuracy of Maps. You will find this in Settings>Privacy>Location Services>System Services>Frequent locations. Now a list appears with a map, where blue circles displaying where you have been. You can clear history from this page, or turn off from System services page.
Accessibility Settings: Make iOS 7 look clear to your eye or adjust it to look better, which can be done in Settings>General>Accessibility.
Sounds: New sounds or tones can be added from iOS7's library (Settings>Sounds>Sounds and vibration patterns). Updates are available to this library on regular basis.
Siri: Now Siri can list emails and read from inbox.
All apps can be in a single folder: There is no limit to the number of apps you can add to a single folder. Now you can simply add as many icons you wish based on desired content.
Reduce Motion Sickness: iOS7 tries to exhibit its existence with motions, animations and alerts, this feature can be turned off from Settings>General>Accessibility>Reduce Motion>Off
Notification Centre can be removed from the lock screen: Your appointments and messages can be accessible from lock screen. You can hide the information by turning off this overview from Settings>Notification Centre, by using the sliders displayed under Access on Lock Screen.
New compass in iOS7 has swipe options, when you swipe to left in the app; it displays a spirit level with navigational tool.
You can select walk or drive option anywhere on the map. You can select the default mode of travel to avoid having to define the directions every time, you can do so by tapping Settings>Maps and choose, so every time you open map for directions it chooses walking under preferred directions.
New tab in App store called Near Me, which lists the most popular apps in your geo location. It is useful when you are visiting towns or cities for the first time.
Background Apps refresh: You can allow specific apps to refresh in the background. If you want to save your Battery life then you can turn off any services in Settings>General>Background App Refresh.
You can Control Automatic updates in your phone, this can be done by going to Settings>iTunes and App Store, then slide the updates option under Automatic Downloads to your preferred selection